Working with diversity is not a simple box to check off and move on.
Since 2012, Compello is working proactively to raise the percentage of women in our own organization, and generally in the tech industry through various initiatives and collaboration projects. When it comes to gender equality in our industry we still have some distance left to the finish line, even here in the Nordics.
According to an EU report from 2018, the gap between the proportion of women and men in the digital sector in Europe has even grown since the last measurement was made in 2011. In Norway, the average proportion of women in the tech industry is 28% in 2018 (TNS), which corresponds quite well with the Swedish figures: 29 % in 2017.

In regards to the work with diversity in our workplaces, most organizations have room for improvement. Regardless of sector or industry. In Sweden, of those with disabilities, 68 % are employed compared to 84 % for the population without any disability. And only 75 % of foreign born with a post-secondary education in the age of 25 to 64 had a job in 2015, the corresponding number for native born was 90 %.
The chart above shows the proportion of women since 2006. The statistics is based on data from businesses within IT&Telecom in Sweden with more than 10 employees.
When Compello decided to sponsor our employee Martin Polash in para table tennis, we listed several reasons. One of them was to raise the importance of diversity in a company, and another to push ourselves to work more strategically with these questions. It's about values, but also about growth because interestingly enough, diversity is linked to many positive benefits for the business.
Also read: The insult of my childhood. Martins thoughts about daring to ask questions.
7 reasons why diversity is good for business:
1. Improved recruitment opportunities
Research shows that all groups, regardless of qualifications, do not have the same chances of getting a job. When we actively work with inclusion and move away from a narrow and homogeneous selection, our chances to find the best talents and to recruit the right person for the right position increases.
2. Improved results
According to a report from McKinsey, companies in the top quartile for racial and ethnic diversity are 35 % more likely to have financial returns above their national industry median. For companies in the top quartile for equality of gender, the figure is 15 %
3. Innovation
Research on how diversity affects innovation shows that diversity improves the spread of knowledge and contributes to new ideas. At Compello, we believe that the dynamic created when multiple perspectives meet are positive. We also believe that the opportunities for creative thinking increase as employees challenge each other to think in new directions - suddenly, it becomes easier to think outside of the famous box. Innovative ideas and innovation lead to better products and solutions for the customers.
4. More satisfied employees
We believe that an inclusive work environment where the employees can be themselves and are encouraged to contribute with their different experiences and perspectives, also increases the general well-being. And our logic tells us that when people feel good, their engagement also increase, most people perform better, and the sick leave is reduced.
5. Deeper understanding of the customers
To reach customers and prospects, companies need an understanding of the market and its needs. When an organization welcomes people from different groups, the company gets more perspectives and deeper understanding for customers with broad backgrounds.
6. Strengthening the company brand
Strategic diversity work strengthens the company brand, which in return produces several positive effects. Especially for potential customers, because even for companies like Compello that provide services B2B, it's ultimately about commitment and H2H (Human-to-Human). Current employees also get an increased pride for their employer. A strong brand also shows the direction the company wants to have, and ensures that the organization keeps the course and develops in the right direction.
7. Corporate Social Responsibility
Working strategically with CSR, meaning taking responsibility for how we influence society from an economic, environmental and social perspective, is an expectation that lies on modern companies and organizations today. Recruiting staff from more vulnerable groups is part of being a responsible employer.
Also read: Tips on how to increase the proportion of women in your company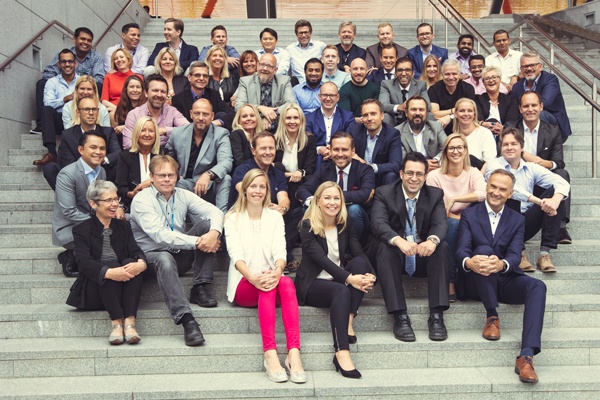 The Compello team outside HQ in Fornebu, August 2018.
Do you agree that the 7 reasons listed in this blog post are the strongest ones, or do you have others? Please share them with us, we want to keep learning and we are still quite far from our goal. Working with diversity is not a simple box to check off and move on.
In the meanwhile, we are of course following Martin Polash and his commitment to reach Paralympics 2020. Make sure you are too!
Follow the blog by subscribing to it! Also, look out for #Martintotokyo in our social media and like us on facebook, instagram and linkedin to not miss out on anything!
---
Sources:
EU Commission, Increase in gender gap in the digital sector – Study on Women in the Digital Age
IT & Telekomföretagen (Swedish member organization for companies in the IT & telecom sector) Statistik kvinnor och män (article in Swedish)
Statistics Sweden (SCB), The labour market situation for people with disabilities 2017 (
Statistics Sweden (SCB) Matching between education and occupation among foreign-born in Sweden (2017)
Mc Kinsey, Diversity Matters
Swedish Agency for Economic and Regional Growth (Tillväxtverket), Mångfald och tillväxt i företag (article in Swedish)